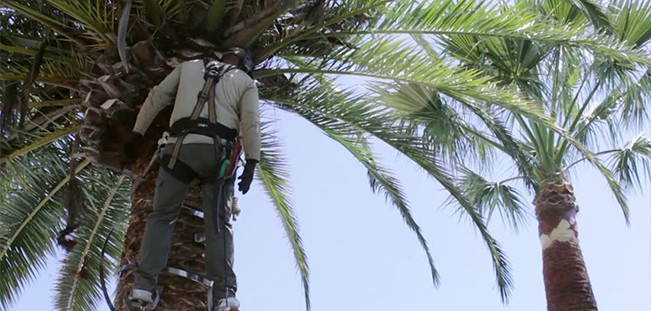 Palm Tree Removal Brisbane North
Brisbane Palm Tree Cleaning Experts
Palm trees add an inviting tropical look to your home and garden while also providing much needed shade from the sun. As they grow, most palm trees shed their seed pods and fronds naturally. The type of palm that naturally sheds in this manner is referred to as self-cleaning. Not all palms are self-cleaning and can become an eyesore in your garden, which is why palm tree cleaning is usually a necessity at some point during a palm's life cycle. Additionally, ripe seeds may attract fruit bats or damage pool filters. Left with little to no maintenance, fallen palm fruit and seeds and can germinate in the landscape causing further mess in your garden, driveway or pavements.
B&R Tree Services
has the necessary expertise to care for all types of palm trees in order to keep you safe. We provide services to Brisbane and all of its surrounding areas. 
Contact us
 today for additional details or to request a quote.
Hire the Palm Tree Removal Professionals
Palm tree removal is a complicated and dangerous process that requires a skilled professional. B&R Tree Services has a highly experienced staff that will safely remove your trees. Attempting to do this yourself is dangerous as there are risks you might not be aware of such as power and gas lines which can lead to severe injury.
By identifying the proper trees for removal, we are paving the way for you to have the worry-free outdoor experience you deserve. All you need to do is contact us today on 07 3264 6398 or send us an inquiry using our online to receive a free estimate.