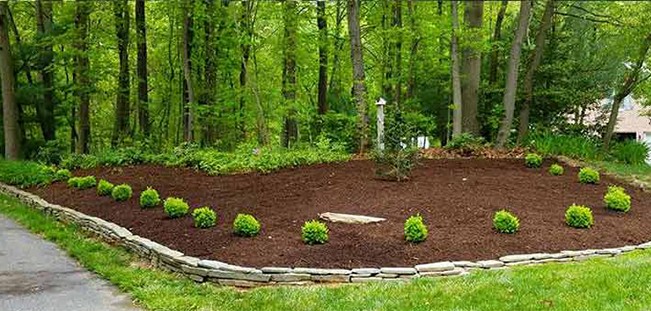 Professional Mulching Services Brisbane North
Our professional team at B & R Tree Services offer more than just tree removal Brisbane services – we want to help you get the most out of your garden, yard and outdoor landscape.
This is why we provide mulching services, as we want to keep your trees in the best possible condition, especially for new plants and trees.
Mulching is a key component to maintaining healthy, attractive landscaping. It is essential because of its versatility and wide ranging benefits.
When done correctly, it is a timesaving measure for any part of your lawn or garden. Mulched areas are more weed-free and drought-resistant than areas without mulch, thus saving you the time and energy of constantly weeding, watering, and combating pests.
Mulch is a material that is spread on top of and around the root systems of your trees and plants. It comes in two basic forms: organic and inorganic.
Organic mulch is made up of material that was once living such as leaves, grass clippings, compost, wood chips, and pine straw. Inorganic mulch is made up of items such as rocks, gravel, stones, and sheets of black plastic.
Both have their advantages and choosing the right type of mulch will depend on your unique circumstances.
Organic mulch (such as wood chips, bark, has the advantage of enriching your soil as it breaks down and releases nutrients. This process enhances microbial activity in the soil and contributes to the overall health of your plants. However, because it breaks down, organic mulch will need replacing from time to time.
Inorganic mulch will not breakdown or help enrich your soil, but it will last longer and require less maintenance than organic mulch.
The rate at which organic mulch decomposes depends on the materials, climate and the environment's ecosystem. We can assess your mulching needs and make recommendations for what would be best in your situation. It's our knowledge and expertise in this area that helps make certain we choose the right option to suit your needs and garden.
Due to the strenuous and time-consuming nature of mulching, it can be an activity that people avoid altogether. This is unfortunate as there are tremendous gains to be had. B&R Tree Services is here to take care of all of your mulching needs in Brisbane and the surrounding areas.
Our expertise will save you time and money by getting the job done quickly, efficiently, and to your exact specifications.
Contact us today to request a quote to have mulching done for your property.
Mulching offers the following benefits:
Mulching Helps Retain Moisture:

A deep layer of mulch will guard against direct sunlight and heat. This will greatly diminish the effects of evaporation. A layer of mulch will also almost completely eliminate the amount of water lost to wind. Both of these benefits help to retain moisture around the plant and reduce overall watering needs.
Mulching Reduces Weeds:

Weed seeds can lie dormant for years until the soil is cultivated and they rise to the surface. As the soil is turned over, seeds receive sunlight and subsequently grow. A layer of mulch on top of the soil severely limits the amount of sunlight that can reach these seeds. This safeguard greatly diminishes time spent weeding.
Mulching Helps Maintain Even Root Temperature:

Mulch regulates soil temperature by shading in the summer and insulating against cold winter winds. This creates a more conducive environment in which roots can grow and remain strong.
Mulch Guards Against Damage:

Aside from creating a better environment, mulching also has the practical benefit of creating a buffer. The space it creates between your plantings and the lawn guards against accidental damage from lawn equipment.
Aesthetic Appeal:

Proper mulching is an easy way to add vibrant colours, tones, and textures to your lawn. It creates a dynamic backdrop against which all of your plantings stand out in new and interesting ways. The aesthetic appeal of this scene undeniable and elicits great joy.
Plus mulching helps save the planet! It saves you from having to water your plants and trees as much, therefore saving water as a whole.
This means less spent on your water bills and you will be conserving water which is important for such a dry continent as Australia, especially during drought.
It may not seem like much, but mulching is just one little thing that brings in a lot of benefits and helps our environment!
Our mulching Brisbane service assists proper, healthy growth for your garden and yard. It is important that mulching is done correctly or it can cause problems. While the task may seem simple, improper mulching will do more harm than good!
One of the biggest issues that can happen is over mulching. Knowing what mulching materials to use and how much for your landscape is something B & R Tree Services can help you with.
We have the experience to assess your yard and make sure that the process is done properly and correct.
Improper mulching can lead to problems such as:
Root Rot: This is something can occur with wet soil, where improper mulching can cause excess moisture on a tree root system. This then may lead to rot and causing damage to the tree.
Disease: Knowing the correct levels of mulching is critical to avoid the build up of insects and possible disease that can develop in large, uneven mulching piles.
Soil Toxicity: Using the wrong type of mulch can affect soil pH levels. That's why it's crucial to know the specifics of your yard and garden, and choose a mulching solution that works best for your environment. The last thing you want is soil toxicity, causing nutrient deficiencies to your trees and plants and stifling their growth.
Blocks Air & Water: Without consistent levels of mulching, air and water penetration is reduced causing damages. This typically happens with think layers of certain mulches that can become matted and blocks the much needed natural resources your trees and plants need for growth.
About Us
B&R Tree Services specialises in all types of landscaping design and maintenance. Our staff has a unique understanding of how to foster all of your plants, trees, and shrubs to reach their full potential. We couple all of this with over 25 years of experience servicing Brisbane and its surrounding areas.
Placing customer service above all else, we operate a fully licensed and insured business. This puts our clients at ease knowing that they will never be liable for any accidental damage to their property.
In addition, we offer free written estimate over the phone and through our website.
We Exceed Your Expectations
There is nothing worse than hiring a company to do a job for you and then being disappointed with the results. Most people have experienced this at one time or another. To make matters worse, you have probably already paid for the work and now have very little recourse.
We understand how frustrating this is and we strive to ensure that you never have an experience like this when you choose B&R Tree Services. We want you to exceed your expectations so you feel confident recommending us to friends and family.
Call Us Today
Give yourself the gift of more quality time to do the things you enjoy. All of our services come with a 100% satisfaction guarantee. If you are truly unhappy with our results, we will work until we achieve what you desire. 
No mulching job is too big for us to handle. From tree lopping Brisbane assistance to mulching for new landscaping developments or even if you just want to get your yard back in order and promote its growth, while reducing weeds.
Let us handle the hassle of mulching for you – done by experienced professionals for fantastic results. Enjoy your yard instead of dreading it. Call us to book today!